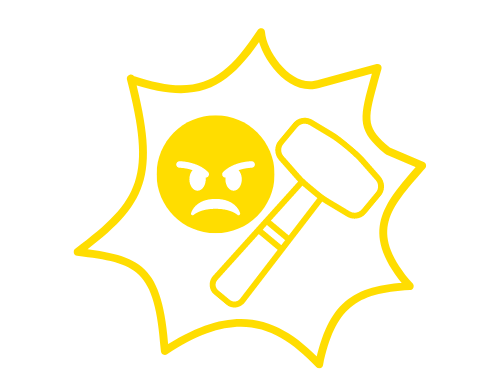 Blow off some steam and break stuff on purpose! We're talkin' glass bottles, old TV's, creepy porcelain dolls. We provide the breakables and safety gear – you provide the muscle.
$26/guest
20 Minutes
Age 18+ (12+ with paid Adult)
Crate of Smashables for each Rager
Bluetooth speaker for your own RAGE soundtrack
Up to 4 People Can Rage Together
Frequently Asked Questions
Anyone 18 or older can rage out. Guests 12 or older can rage with a paid adult, 18 or older, Raging with them.
Yes! Show everyone your true colors. We highly encourage you to take as many pictures and videos as you want while you Rage and post to any social media platforms you wish! 
Yes! Each group can bring one medium box of items to destroy. Rage room staff must approve any outside items. Examples of forbidden items are light bulbs, liquids, tube TVs/CRT monitors, tablets, cell phones, candles, food, or explosives. If you're not sure contact us and we'll let you know.
Just wear regular clothes along with closed toed shoes. All exposed skin must be covered though so we have protective clothing available. 
We provide a helmet with face shield, gloves, and protective clothing (if needed). If you have shorts or short sleeve shirts we have you covered. We have basic coveralls and also outRAGEous items like leather jackets, clown outfits and more – perfect for epic pics and videos!
Our WSDs (Weapons of Smash Destruction) include baseball bats, crowbars, metal pipes, bowling pins, hammers and other smashingly fun items.
Make this year's celebration unforgettable! Reserve our Party Room for up to 24 Guests. Click the button to schedule a party!
PLANNING A TEAM BUILDING EVENT?
Invest in your team, with a Team Building Event at Escape Wapak. Our experiences can boost the friendships between staff members and help improve your company's future.
Looking for something else?
Click One of the Links Below!