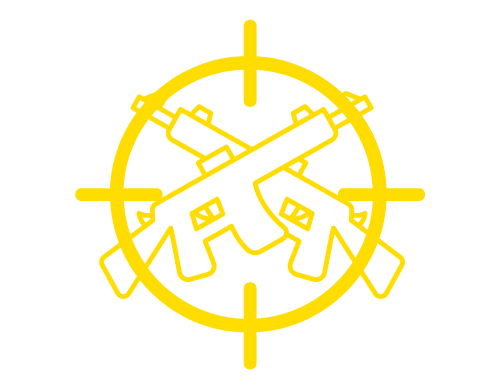 This is Laser Tag for adults. 22,000 sqft outdoor battlefield with 3 maps – THE VILLAGE, DEPOT and both combined for URBAN CHAOS. High-precision technology. Multiple unique Game Modes including ELIMINATION, CTF and DOMINATION. It seriously feels like you're in a video game.
$10 – Single Mission
$26 – 4 Mission Pack
Weapons: AR 15s, 9mm sidearms, sniper rifles and even an RPG

Accessories: Med Kits – Ammo Boxes – Grenades – Code Activated Bombs – Digital Control Points – Demolition Charges – Power Ups

3 Maps
Multiple Mission Types
OPEN PLAY
No booking necessary, just bring your team of mercenaries and play!
FRIDAY 1:00 PM – 9:00 PM
SATURDAY 1:00 PM – 9:00 PM
SUNDAY 1:00 PM – 6:00 PM
Frequently Asked Questions
Make this year's celebration unforgettable! Reserve our Party Room for up to 24 Guests. Click the button to schedule a party!
PLANNING A TEAM BUILDING EVENT?
Invest in your team, with a Team Building Event at Escape Wapak. Our experiences can boost the friendships between staff members and help improve your company's future.
Looking for something else?
Click One of the Links Below!