Solve a mystery, Trash a room, Start a paint fight, Battle your way to Victory. Come do it all!
Pre-Book your Experience or Walk in and Play
ESCAPE ROOM + HAUNTED HOUSE + ZOMBIE SHOOTER
ONE IMMERSIVE EXPERIENCE
HALLOWEEN SEASON
OPENS OCTOBER 6TH
Give the Gift of Immersive entertainment WITH
Click the Icons Below to Explore Our Immersive Experiences
Join the 20,000+ people who escaped with us and LOVED it.
5 Unforgettable Experiences
Party Room Available Up to 30 Guests
Specials for Private Parties and Work Events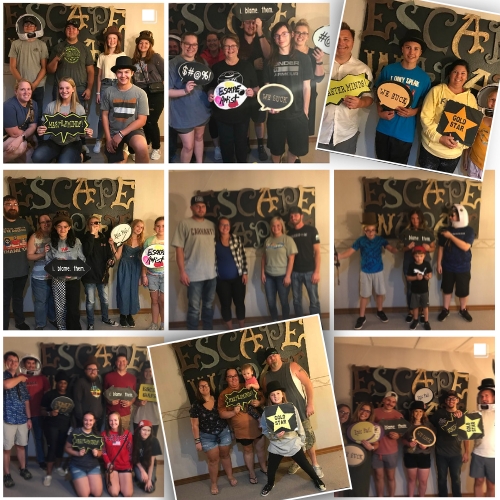 Book now in 3 simple steps
Make this year's celebration unforgettable! Reserve our Party Room for up to 24 Guests. Click the button to learn more!
PLANNING A TEAM BUILDING EVENT?
Invest in your team, with a Team Building Event at Escape Wapak. Our experiences can boost the friendships between staff members and help improve your company's future.
Don't just Take our word for it
Escape Wapak has over 300 reviews on Facebook and Google Maps combined. Scroll down to read just a few!
Frequently Asked Questions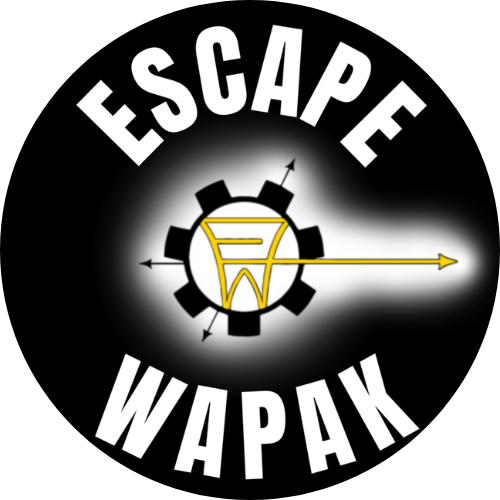 Not at all! You can simply walk in and play any of our experiences if they are available. If you're coming to do a specific experience we recommend you book ahead to be sure it's available when you arrive.
Yes. For faster check-in so you can get to your adventure quickly, we have digital waivers that can be signed on the website before you arrive. They can also be completed on site when you arrive. 
For private events, the host (guest who made the reservation) will receive an email with a link to the waivers to send to all guests before the event. Signing the waiver online ahead of time is highly recommended for larger groups.
You must be 18 years of age or older to complete a waiver. Those under 18 must have a parent or guardian complete the waiver for them.
If something comes up 2+ hours before your start time we can either reschedule your experience or credit your account for future use, no questions asked. Give us a call and we will be happy to assist you.
Although we do our best to be as flexible as possible we cannot give credits or reschedule games within 2 hours of your start time.
Please arrive at least 15 minutes before your scheduled time to get checked in. Your game will begin on time. Late arrival will affect how much time you have to solve the mystery.
We have non-alcoholic beverages and snacks available but at this time we do not serve food. We will be opening our kitchen soon enough…just not quite yet.
1101 Lincoln Ave, Wapakoneta, OH 45895
Monday   CLOSED
Tuesday   CLOSED
Wednesday 4:30 PM – 8:00 PM
Thursday 4:30 PM – 8:00 PM
Friday 4:30 PM – 11:00
Saturday 12:30 PM – 11:00
Sunday 12:30 PM – 8:00 PM
These experiences are too good to enjoy alone! Bring your family and friends, so that you can make memories in real life.